In the world of outdoor spaces, no other debate has been discussed and thought about more than patio vs. deck. And still, the question remains; which should you go for – deck or patio? Both of these choices provide excellent leisure benefits for your family and guests. However, each option also comes with its set of disadvantages. You should consider patio and deck pros and cons before reaching out to a professional lumber company.
What is Decking? Pros and Cons of Outdoor Decks | Deck Vs. Patio
A deck is a raised, wooden platform connected to the house.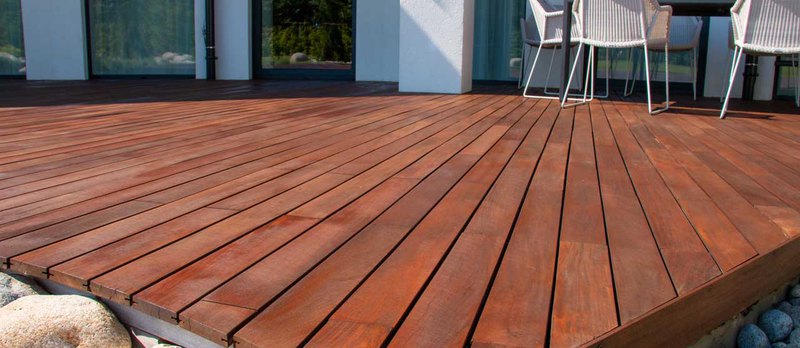 Pros
Cons

Great for Unlevel Slopes or Elevated spaces.

When it comes to a raised deck vs. stone patio, decks are more convenient for uneven slopes or elevated spaces.

Have shorter lifespan

Wooden decks, specifically, are susceptible to rot and discoloration over time when not properly maintained.

Significantly Increases the property value.

The ROI on a wooden or composite deck vs. patio is over 75%. A deck is one of the best investment decisions for a home.

Wooden Decks Require Regular Maintenance

Wooden Decks usually require prepping, sealing, and high-grade cleaners every few years. Composite Decks require less maintenance with yearly cleaning.

Offer better customization options.

Customization options on concrete patio vs. wood decks are much fewer. A custom deck can be stained, painted with stunning patterns, or customized with privacy lattice. Railing also adds design to decks.

More Costly

Decks are usually more expensive than patios. The average cost of deck vs. patio is about $6000 (12x16) and $3,000 (12x16) respectively.

More Comfort in High Temperature

Patio vs. deck difference in heat absorption and retention is important for those living in hot areas. Decks generally absorb and retain less temperature than patios.

Weight restrictive

Raised decks have a higher weight restriction than concrete patios. To overcome this, you can consider the case of ground-level deck vs. patio.

A better view

The view is better on a raised deck vs paver patio. Raising the height level of a patio is harder, especially if it's concrete.

Permits and regulations

Many homeowner associations have restrictive regulations on building and increasing deck height.
What is Patio? Pros and Cons of Patios – Deck Vs. Paver Patio
The definition of a patio is - a paved outdoor area that is either attached or detached from a house.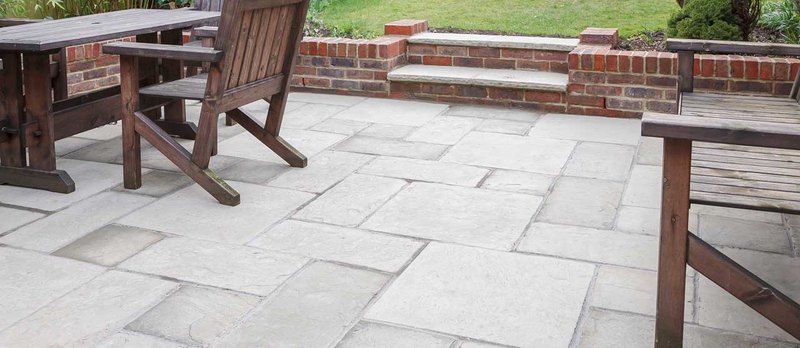 Pros
Cons

Less costly

Patio installation is generally more affordable than installing a deck or porch. This is especially true when considering installing a concrete patio vs deck.

Not suitable for uneven slopes

The cost of installing a patio on uneven ground is high since contractors must even it out first.

Privacy

Privacy on a patio or decking is an essential factor for many homeowners. A patio provides more privacy because they're low on the ground.

Less Safe

When considering a concrete patio vs. deck option, you must also consider the risk of falling. Patios have to be coated with anti-slip sealers.

Easier to Maintain

Unlike decks, patios require little maintenance. This is one of the main reasons why many people prefer patio instead of deck.

More susceptible to cracking

This disadvantage is significant when considering a concrete patio Vs. Wood deck. Cracking occurs due to poor soil under the patio and high-temperature weather.

No Permits required

Ground level patios rarely need building permits and inspections from authority or homeowner associations.

Take Longer to Install

Construction of raised patio vs. deck usually takes longer because construction with concrete involves many intensive processes.

Longer lifetime

Ground level patio vs. deck lifespan is drastically different. A stone patio can last for 25+ years, while a wooden deck has a 10-year lifespan.

More prone to stains and dirt

Patios easily get stained with mud, leaves, mold, and mildew because they're closer to the ground.
What Is the Difference Between a Patio and A Deck? – Outdoor Spaces
Low deck vs. patio designs are vastly different. Patios offer more freedom in design and building material than decks. You can choose to have a made of concrete, bricks or stones. A patio can be big or small, triangular, circular, or rectangular. You can also pave patios with stamped overlays of any pattern you wish. An outdoor deck is more restricted since they are primarily wooden. The main difference between deck and patio is that decks are usually connected to a house.
Get High-Quality Outdoor Decks and Patios – Choose Cedar Supply
Do you have a patio or deck idea for your outdoor space? We can help you with that!
At Cedar Supply, we have over 40 years of experience providing people with premium lumber and supplies for outdoor living spaces.
We service the following areas in Fort Collins, Co.
Cheyenne County,CO,
Denver,CO
Greeley,CO
Loveland,CO
Longmont,CO
Boulder,CO
Windsor, CO
Contact us today, and let's bring your idea to life.