The myths of steel vs. aluminum fencing
In our last blog post, we talked about steel ornamental iron fencing that we sell in Longmont, Greeley, and Loveland and the growing popularity of aluminum fencing. There are several myths regarding this type of fencing that needs to be addressed when making a decision.
Myth#1: Steel is superior
There's a misconception that aluminum fencing is not as strong as steel fencing. Today, most manufacturers of aluminum fencing incorporate certain aluminum alloys that are just as strong if not stronger than steel. These alloys meet or exceed pounds per load rating both residential and commercial fence applications.
Myth #2: Durability
Both steel and aluminum ornamental iron fencing are very durable. The biggest draw back with steel though, is its tendency to rust over time. Nicks and scratches from machinery or mowing equipment etc. allow moisture to enter these areas and rust problems occur. Another problem with steel is the painting process is inferior to aluminum fencing and periodic re-painting is required due to the oxidation of the sun's UV rays over time.
Here at Cedar Supply Lumber Company, we sell Xcel aluminum fencing. This product has a multi-stage treatment of four layers with the final layer being baked on polyester TGIC powder coated finish. This makes for a fade and scratch resistant surface which protects against cracking, fading, and peeling.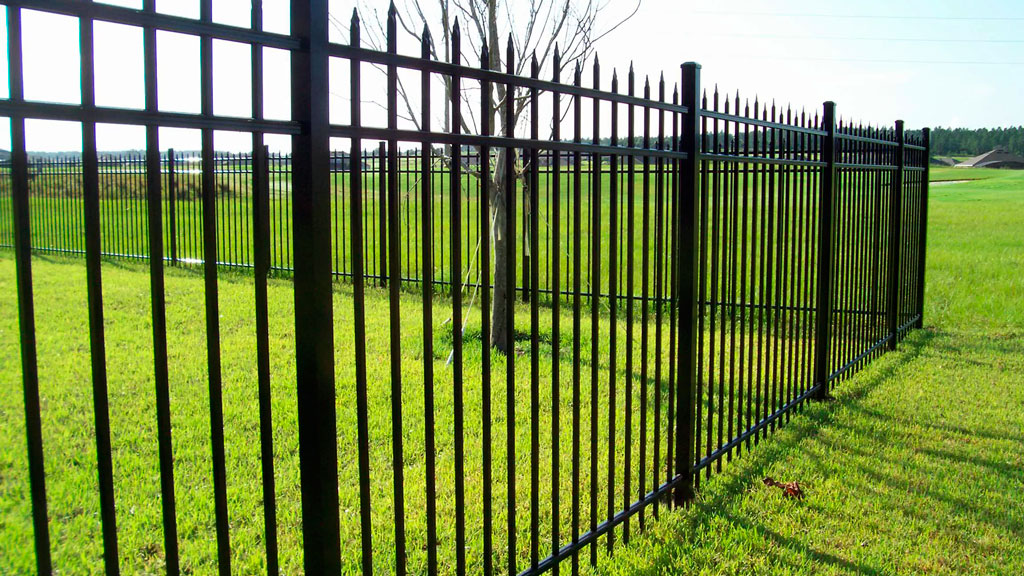 Myth #3: Bracket System is Inferior
Steel iron fences in Denver, Colorado and throughout the Front Range, have brackets that are welded to the fence panel. There's nothing wrong with this, but each welded bracket has to be exact for mounting purposes.
Aluminum ornamental iron fences use adjustable brackets which are great for the do-it-yourselfers (DIY) as well as contractors. Installation is easier and faster. These brackets are manufactured in a way that once the panel is installed correctly the panel is ridged and secure.
Myth #4: Aluminum is expensive
Most steel fences today are assembled from cast iron components. There is considerable labor involved in welding the components together to make an individual panel. There is also additional cost in the powder coating of each panel. Aluminum fencing is more expensive from a panel cost but over the long run, the maintenance mentioned in myth #2 adds to the cost of steel fencing, therefore, aluminum works out to be less.
Did you know that Cedar Supply is the number #1 supplier of ornamental and wrought iron fencing in Fort Collins, Colorado? We're very close to Greeley, Loveland and Longmont, Colorado. It's a beautiful drive up here. Stop in and see us. We'd love to help you.
Contact us Today
At Cedar Supply, we know how important customer service is to you. Our entire sales team is eager to help you with all of your inquiries or questions. Each customer is cared for with utmost respect and treated like a friend.
(970) 663-2828