While Cedar Supply North isn't the only company that offers ipe wood options, it is one of the best in Fort Collins, CO. Cedar Supply offers a wide range of modern wood and metal composite decking to help you create your outdoor dream area in your home. We make it easier for you to choose decking materials for your composite deck boards by narrowing the choice to the top six brands.
Benefits of Composite Decking Materials For Your Project
Using composite decking materials for your project brings many benefits. Our supplies contain the best products to help you get the most benefits possible. Some of the top benefits of composite decking include the following:
Low Maintenance: Composite decks require little to no maintenance as they are resilient against harsh conditions and only need water and soap to look new again.
Natural Materials: Composite boards are made entirely of natural materials recycled to produce a composite.
Clean the Planet: Since composite is made by combining different materials, it can help keep the planet clean and is environmentally friendly as it contains no toxic compounds.
Better Looking: Unlike most decks, composite decking colors vary among a huge range and allow you to choose a color that can add aesthetic value to your home.
Reasonably Protected: Composite deck supplies are made to remain protected against all sorts of harm and can last up to thirty years.
Warranty: Cedar Supply offers a limited warranty for your composite deck materials that can make you feel assured that you are making the right choice for your project and keep you safe in unexpected situations. It is also easy to replace if it's needed.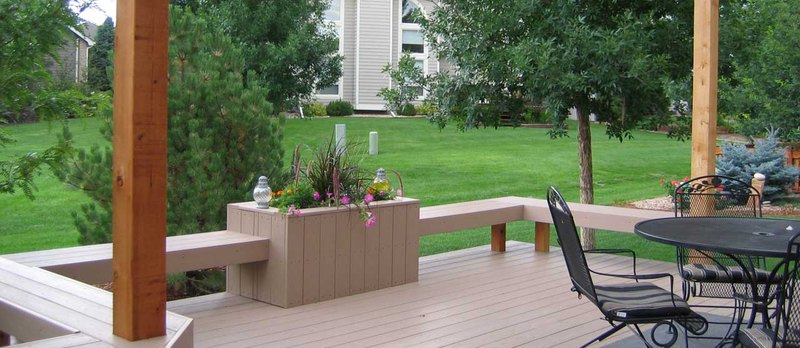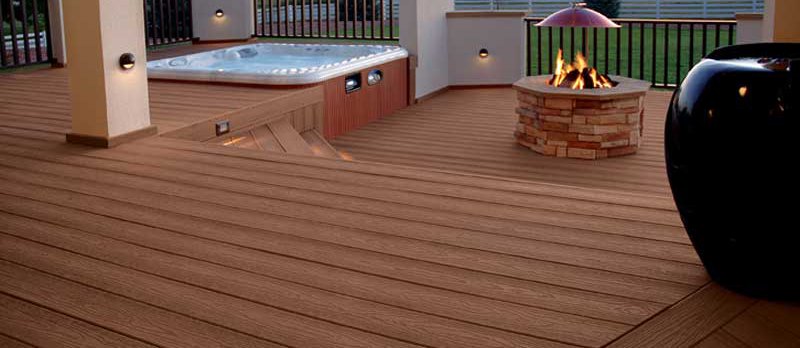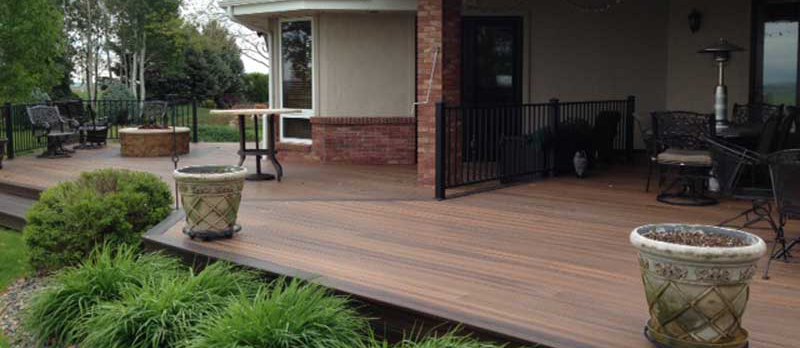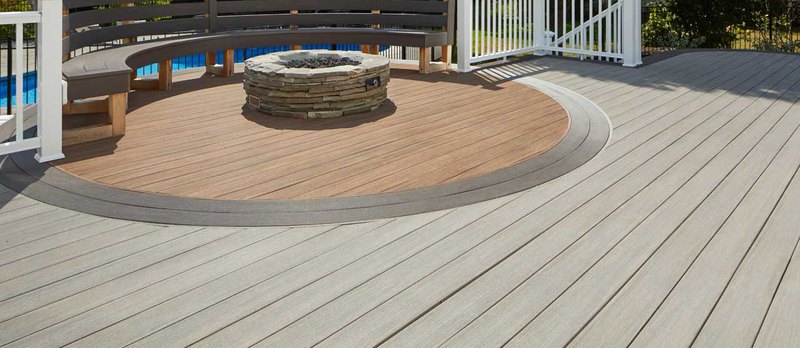 Composite Decking For Sale from Top Brands
Cedar Supply offers the best composite decking in all of Colorado at a pocket-friendly rate. Our composite decking for sale includes products from the top companies, including:
Timbertech/ Azek
Timbertech: A low-maintenance, high-quality composite decking and railing solution. Made from reclaimed wood fibers and pure plastic resins, Timbertech's composite decking materials and railings are a revolutionary alternative to traditional wood decks in Fort Collins, CO, available at the best price for you. These decks and railings offer a skid-free, splinter-free surface that doesn't need painting, staining, or sealing.
Timbertech Composite decking and railing materials offer easy and consistent installation, diverse design solutions, and a natural style that creates the ultimate outdoor living area. With an array of decking profiles, color options, high-quality surfaces, and size choices, you can customize any of these composite deck boards to meet all your decking needs. To find out more about Timbertech decking, please visit TimberTech.com
Azek: Are you looking for a decking product that offers a real wood appearance that withstands the test of time? AZEK engineered high-performance decking materials is one of the leading composite decking products at the best price on the market. Its lightweight and durability are unmatched. AZEK comes in a beautiful lineup of colors and wood grains.
Forget the annual cleaning and staining with a wood deck. AZEK is virtually maintenance-free. A GREAT choice in decking!
Envision Decking
Envision decking is a molded composite decking made with recycled materials that feature a beautiful, true-to-life, deep-grain look. This composite decking is manufactured for those who want the natural look of real wood with very little maintenance.
Envision requires no staining or painting and comes in nine gorgeous colors that complement any style of home. And with a 25-year limited warranty against splintering, splitting, rotting, and insect damage, you can rest assured that Envision composite decking is the right choice for you. To find out more about Envision Decking, please visit tamko.com.
Trex
Trex composite decking is one of the pioneers in wood-alternative maintenance-free decking materials that offers a wide range of beautiful natural wood grain colors that can provide you with endless color design choices. Trex's composite decking offers a 25-year limited residential warranty for all its decks, rails, and product lines. To find out more about Trex Decking, please visit trex.com.
Fiberon Decking
Fiberon capped composites capture the warmth and beauty of natural and exotic hardwoods, complete with subtle streaking, varied grain patterns, and rich color pallets. These composite deck boards offer industry-leading stain, fade, and performance warranties. Fiberon contains recycled materials from plastics and lumber mill scraps to prevent 70,000 tons of waste from reaching landfills.
As stunning as it is strong, Fiberon composite decking is designed to last. As a revolutionary breakthrough in composite decking materials, it is the perfect union of natural beauty, cutting-edge technology, and the ultimate in low cost. Could outdoor living in Fort Collins possibly get any easier? We doubt it. To find out more about Fiberon Decking, please click on fiberondecking.com.
Deckorators
Allow Deckorators® to take the enjoyment of personalizing your outdoor living space to a whole new level. Our composite decking, deck railing, balusters, post caps, and decking lights make it easy to extend your living space outdoors. The pioneering spirit of these composite deck boards, as well as being available on sale from time to time, keeps us on the leading edge of deck ideas and porch design innovation.
With constant deals and discounts, you do not have to worry about the cost. You can get wholesale composite decking at an affordable price and build your dream deck for your home. Moreover, we provide a range of products, including decking packs and sealers.
The Best Composite Decking Supply in Colorado
Here at Cedar Supply North, we put our customer's needs first. Before you buy composite decking, we can provide various decking materials for you to compare. Moreover, we can facilitate any kind of project, whether a DIY or through professionals. Moreover, we can help you connect to the best decking contractors in Fort Collins, CO. ‌Our composite decking supply goes to all parts of Colorado, including:
Cheyenne, CO
Denver, CO
Greeley, CO
Loveland, CO
Longmont, CO
Boulder, CO
We do everything possible to help our customers complete their composite decking projects. Contact us and get the best composite decking prices. Look through our full range of materials for sale online or visit our showroom.